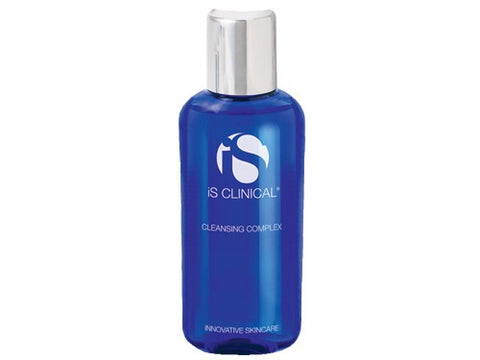 iS CLINICAL Cleansing Complex 6 fl oz
Use iS Cleansing Complex to deeply cleanse your acne prone skin.
Powerful and gentle, this acne cleanser works to give your skin an effective, non-irritating deep clean. iS CLINICAL Cleansing Complex is a clear gel cleanser that contains a multitude of cleansing, nourishing and soothing ingredients that remove dead skin cells, makeup and excess oil while it unclogs pores. It won't strip skin of natural essential oils like many cleansers. Get a cleaner, brighter complexion when you buy your Cleansing Complex.
You'll get a fresh complexion with the powerful cleansing ingredients found in iS CLINICAL Cleansing Complex.
This cleanser's formula comprises a stable blend of bio-nutrients, antioxidants, botanicals and soothing ingredients that work to remove impurities and refresh skin. Made with glycolic acid, this cleanser also works as a resurfacing agent that exfoliates dead skin cells and unclogs blocked pores. Also formulated with salicylic acid, Cleansing Complex is proven to effectively penetrate into pores to stop breakouts in the deep layers of the skin. All of these high-quality ingredients work together to remove buildup without removing essential oils and nutrients. Your skin will be thoroughly cleansed without feeling tight or dry.
---
We Also Recommend